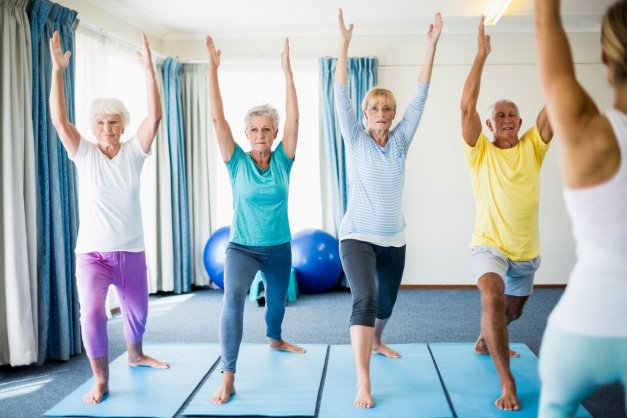 The health benefits of yoga for seniors go beyond that of just remaining active. Yoga for seniors combines a succession of postures and breathing techniques to help calm the mind, while strengthening the body's core at the same time. Yoga classes for seniors are meant to be gentle and therapeutic.
Statistics show that more than 60% of men and women over the age of 65 have high blood pressure. While medication can help to keep numbers down, practicing senior yoga can also help. The controlled breathing in senior yoga decreases nervous system activity which in turn helps to manage blood pressure levels.
Senior yoga classes also use weight bearing activities that can help burn fat and build muscle and strengthen bones to reduce the risk of Osteoporosis.
Working on balance is a huge part of yoga for seniors. As we age, maintaining strong balance is key to preventing falls.
Lastly, senior yoga classes help to reduce stress and improve your mood! With mindful breathing, meditation, and guided yoga poses, your brain releases mood-altering chemicals that can make you feel good and ward off feelings of depression.
For more information regarding Senior Yoga or upcoming Senior Yoga Certification trainings, contact Debbie Russo: [email protected] or call 630-291-4884.