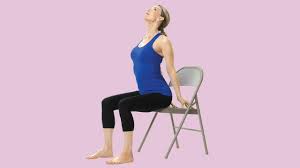 Celebrate this Valentine's Day with some chair yoga back bending poses, called "heart openers." These postures help you open and balance your heart chakra, and release tension and blocked emotions.
Although gentle yoga for seniors, the powerful benefits include:
strengthen the upper back
improved posture
increase lung capacity of the lungs
relieves tension in the back and shoulders
increased blood circulation
stimulates the thyroid and pituitary glands.
The benefits for the heart include:
emotional release
boosts confidence
develops compassion
relieves depression and feelings of isolation
Heart openers expand your chest and rib cage and can create a deep emotional release, helping you to appreciate and honor yourself and your loved ones. When you open your heart, your whole spirit expands causing confidence and authority. This attracts the love you need and the life you want.
For more information regarding Chair Yoga for Seniors, Senior Yoga or upcoming Senior Yoga Certification trainings, contact me:
Email: [email protected]
Phone: 630-291-4884