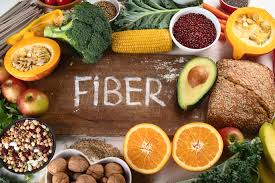 Scientists have long known that eating fiber is good for health. But for some reason, American adults are only eating an average of 15 grams of fiber on any given day, despite the daily recommendations from the Academy of Nutrition and Dietetics being:
25 grams for women, or 21 grams if over 50 years old
38 grams for men, or 30 grams if over 50
So it's important to shed more light on how fiber helps our bodies. This nutrient has been linked to fending off disease and reducing the risk of a range of conditions, including type 2 diabetes, food allergies, and even arthritis.
A 2017 study found that the importance of fiber is intimately tied with the importance of our gut microbes. A proper fiber diet literally feeds and makes these bacteria thrive. In turn, they increase in number and kind. The more microbes we have in our intestines, the thicker the mucus wall and the better the barrier between our body and our busy bacteria population. While the mucus barrier lowers inflammation throughout the body, the bacteria aid in digestion, creating a dual benefit.
However, eating too much fiber can cause digestive distress, gas, and intestinal blockages. The good news is that it's hard to get too much fiber, especially since most people don't get enough. Slowly ramping up your fiber intake can help you avoid some of the above problems. Not overdoing it will help you avoid the rest.
Foods that have the most fiber include:
Fruits and vegetables
Beans, peas, and lentils
Whole grains
Nuts
Try adding these fresh foods into your daily diet. Remember, processed/packaged foods usually mean less fiber.
For more information regarding Chair Yoga for Seniors, Senior Yoga or upcoming Senior Yoga Certification trainings, contact me:

Email: [email protected]
Phone: 630-291-4884