Enjoy this quick and easy dinner using summer produce!!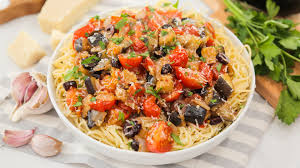 Ingredients

2 tablespoons extra-virgin olive oil

1 medium eggplant, (about 1 pound), cut into 1/2-inch cubes

2 cloves garlic, minced

4 plum tomatoes, diced
⅓ cup chopped pitted green olives

2 tablespoons red-wine vinegar

4 teaspoons capers, rinsed

¾ teaspoon salt

½ teaspoon freshly ground pepper

1/4 teaspoon crushed red pepper, (optional)

12 ounces whole-wheat angel hair pasta

1/4 cup chopped fresh parsley, or basil
Step 1 - Put a pot of water on to boil.
Step 2 - Heat oil in a large nonstick skillet over medium heat. Add eggplant and cook, stirring occasionally, until just softened, about 5 minutes. Add garlic and cook, stirring, until fragrant, 30 seconds to 1 minute. Add tomatoes, olives, vinegar, capers, salt, pepper and crushed red pepper (if using) and cook, stirring, until the tomatoes begin to break down, 5 to 7 minutes more.
Step 3 - Meanwhile, cook pasta in boiling water until just tender, about 6 minutes or according to package directions. Drain and divide the pasta among 6 shallow bowls. Spoon the sauce over the pasta and sprinkle parsley (or basil) on top.
Join Debbie on Thursdays at 10:30 a.m. for on-line Senior yoga class!
Remember, Senior Yoga is not just for seniors! It's a great practice for anyone that wants more gentle movement or even someone who's recovering from an injury. All are welcome!
https://www.next-yoga.com/wheaton-location
For more information regarding Chair Yoga for Seniors, Senior Yoga or upcoming Senior Yoga Certification trainings, contact me:

Email: [email protected]
Phone: 630-291-4884