Regular yogurt is an excellent source of calcium, potassium, protein,
zinc, and vitamins B6 and B12. What makes Greek yogurt different is its
thicker, creamier texture. It also contains probiotic cultures and is lower in lactose and has twice
the protein content than regular yogurts.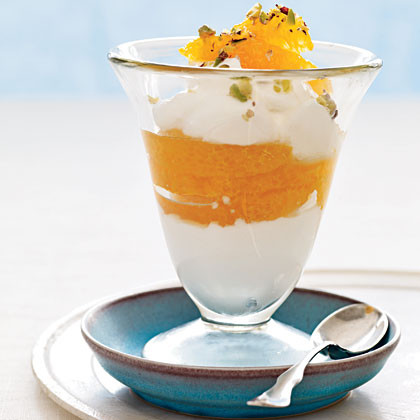 Greek Yogurt Parfait
Makes 4 servings
Ingredients
3 cups plain fat-free Greek yogurt (like Fage or Oikos)
1 teaspoon vanilla extract
4 teaspoons honey
28 clementine or "cutie" segments
1/4 cup shelled, unsalted dry-roasted chopped pistachios
Preparation:
Combine yogurt and vanilla in a bowl. Spoon 1/3 cup yogurt mixture into each of 4 small parfait glasses; top each with 1/2 teaspoon honey, 5 clementine sections, and 1/2 tablespoon nuts.
Top parfaits with the remaining yogurt mixture (about 1/3 cup each); top each with 1/2 teaspoon honey, 2 clementine segments, and 1/2 tablespoon nuts. Serve immediately.